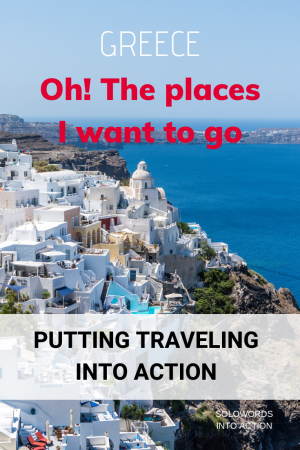 Travel into Action. Oh! the Places I Want to Go
Why should we consider traveling a priority?
There is no doubt that we live in a globalized world. Through technology, photos, and amazing videos, we can see and know about every single place in the planet. However, nothing compares to experience new places in person and we will only know that after we travel. Here are 10 reasons why we should make traveling one of our priorities:
It opens our mind: We are used to the way we live, but outside of our tiny world (it doesn't matter if it is a big city or a small town) there is a bigger and super interesting world that can show us different ways to live
It is a learning experience: we get personal growth through general knowledge enrichment about geography, history, language, and more. We also get priceless knowledge by interacting with other people, their language, and culture.
It makes us get out of our comfort zone. New language, food, behavior, and unknown places can make us feel out of our comfort zone, but all these new things are the ones which will give us the learning experience.
It introduces us to unique and delicious food. I have to confess that I am a picky eater, but even with my picky problem I get to enjoy delicious food when traveling
Makes us appreciate more what we have. When we travel, we have the opportunity to see beautiful places and the way people live, but even the most beautiful places can show us that there is not a perfect place. It could be because of high polution, poverty, safety problems, inclement weather, etc. By witnessing that, we value more what we have.
Makes us want to experience more. At least this is what happens to me every time I travel. I start thinking about my next trip and the places I want like to go
Gives us memories that last forever and a lot of stories to tell. 
Makes us connect with other people from different cultures and make new friends around the world
Allows us to see incredible things made by man or nature. It is one thing to see a picture or a video of the Eifel Tower than to be in front of the Eifel Tower and take the picture ourselves.
Makes us love our bed. Yes, our bed never feels better than the first night we get back from a trip.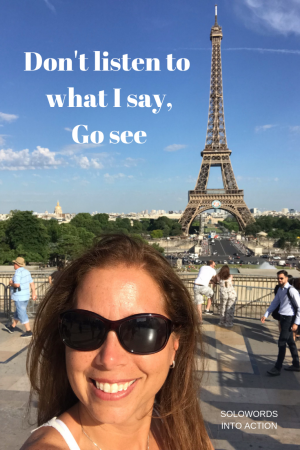 Well, with 195 countries and thousands of cities in the world (FYI there are 4,516 cities with a population of over 150,000) we all have a very long list of incredible places to go.  It is hard to recommend one or just a few of them. My suggestion is to make a "The Places I Want to Go" list using the same technique recommended to seniors in high school when they start applying to colleges:
Three places where we would love to go: These are the places we dream about, but they might be out of your reach right now. They are maybe too expensive, too far or require an extended stay to justify it. For this to happen, we will need more time, money, and planning.

Three places where we have more chances to go: These are the places that we know we can go if we save some money and plan ahead.

Three places that we know we can go: these are the places that will take us little effort to go to. It is basically about making the decision and go. This kind of traveling is maybe in our own country or visiting a family member or friend.



Also, I think it is important to know the difference between tourism traveling and relax traveling:
Tourism traveling: this is the kind of traveling to know more about places' history and culture. It is about taking guided or self tours, going to museums, learn the history and walk the whole city until your feet say no more. A good example can be traveling to Europe where cities are full of history, and there are so many things to see and do. I usually say that after this kind of vacation I need another vacation
Relax traveling: this is exactly that, a travel to relax and enjoy a beach, a mountain, spa, food, drinks, dance, play and to relax again. i.e., a cruise, all-inclusive resort, or visiting a friend.
After we get our list, it is up to us to start planning and organizing ourselves to make our travel a reality. How?
20 Tips to put the word TRAVEL into action:
Open a saving account just for traveling. Make sure you don't get into debt to travel.
Spend less on material things and save more for traveling. We all know that traveling is expensive, but it is something we can do if we make it one of our priorities. Before buying anything we don't need, let's ask ourselves: where do I want to spend my money on material things or memories?
Sell stuff you don't use.
Pick up a side job to help fund our travel habit. 
Request a passport if you don't have one and have it ready, but be sure to 
Get a credit card that gives us points or miles for each dollar we spend, but let's be sure we pay it off every month. If we're paying interest, we're not actually saving any money. 
Start or keep developing our instinct of adventure and curiosity by reading or watching videos of the places we would like to go
Use our vacation days to travel. Let not be workaholics. We all need days off to recharge.

If you are a begginer traveler,

Say YES to Adventure

. Read my first post to get some adventure ideas

Be a tourist in your country. This is a good alternative if you don't feel too adventurous to travel to another country. It could be cheaper and it won't take you out of your comfort zone as much as going to another country
Subscribe for notification for cheap tickets and hotels. I always use Google Flights.
Book flights and hotels with time. This way we can make sure to get the dates we want and usually at a better price
Always check last minute offers, we might get lucky and find a good one
Look for hotels but also check websites like VRBO , Airbnb, and Bed and Breakfast. Renting a house or a room can be excellent options
Download TripAdvisor App. There you can find information and reviews about almost anything you need when you are traveling
Ask experienced travel friends for bits of advice and recommendations
Get good tennis shoes and be ready to walk long distances
Contact family members, friends, or people we know that live where we are planning to go. Usually, everybody is always happy to see us no matter how many years have passed. We just spent a wonderful time in Paris with a friend we haven't seen in 16 years. Thank you, Gaby, for your hospitality!
Be open to try new and local things. At least lets try one new thing from each place we visit.
Don't over complicate traveling. Pick a place and a date, book transportation and hotel, pack light and go
What has worked for our family travels?
Plan each day ahead. We make a list of all the places we want to visit or things we want to do in the city and try to split them between the days of our stay. We plan the route for each day to be more efficient with our time.
Big Bus: This has worked great for us in large cities. Big Bus takes you to all the famous places, and you can listen to the most important facts about the city. You also have the option to hop in and off the bus at any at the stops. We usually try to do the whole route the 1st day to have a good idea of everything in the city. Then we go back to the places we are interested in spending more time.
Rent a bike: if you are more adventurous, consider renting a bike. Getting to know the city by bike is an incredible experience. (check age restrictions)
Rent a Bird or any other kind of scooter. This is even more adventurous than biking. We just did it in Paris with our teenager kids, and we all loved it. It is a fun, fast and new generation kind of transportation. I would say it is a must if traveling with teens. (check age restrictions)
Get in the subway. It is a part of the traveling experience and a great way to know how to move around the city. Also, each subway is an underground world full of locals. Always check the schedule and bus routes in case you need it. 
Try to talk to people and ask questions, even if you don't speak the same language. Don't be shy, be adventurous and start a conversation with the waitress, taxi or Uber drivers and other tourists
Get out of the touristic area and try native places. Ask at the front desk of your hotel for recommendations and safety.
Try at least one local food
Go to an event in the city: a festival, concert, exhibition. There you will get to see locals and get a better glimpse of the culture
Do as the saying: "While in town, do what locals do"
Give a break to photos and selfies. We spend so much time taking the perfect photo and the perfect selfie that we don't notice how much time we are missing to enjoy the moment.
If you find something you like, buy it. Don't expect to find it later or at a better price because most of the time it won't happen, and it is improbable that you go back to the same place.
Take a cruise: It has been a great option for us when traveling with kids or a large group of people. There are plenty of activities to do for everybody, making it easy to be together but at the same time each person can do whatever they feel like. We have been in Carnival, Royal Caribbean, and Xelebrity. I can describe these three cruise lines with one word each: party, everything, luxury.
Travel with an open mind. Traveling requires flexibility, adaptability, and the desire to enjoy new and different things. Read my post about "Go and Enjoy"
Smile, not only for the photos but for yourself, the people that is traveling with you and for all the people around you. Take a look to my post "12 Tips to Smile More"
Traveling is about knowing new places, living new experiences, and creating unforgettable memories. Let's try to make it a habit to travel at least once a year. It doesn't matter if it is close or far away. The world has too much to offer, and we should be interested in going and seeing it by ourselves. Always remember:
"Memories and experiences are more valuable than things"
Here are my two questions:
How many countries have you visited?
What is one place you would like to go to?
Here is a link of a great TEDx Talk that can inspire us to travel more. Please take the time to watch it!
I will be sharing my traveling experiences on Instagram and Facebook. Please check them out!
Easy to download, high resolution image to print at home or favorite local or online print shop in any of the following sizes: 5 x 7, 8 x 10, 11 x 14, 16 x 20 and 18 x 24. To download, click the green bottom bellow.