Hi! Welcome to my blog.
The place where I am challenging myself and anyone who wants to join me to put words into action.
I love inspirational blogs. However, we all know inspiration itself is not enough. Inspiration only turns on the engine to make us want to do something, but that doesn't mean we will do it. We are the only ones who can switch from inspiration to transformation, and that will only happen if we put words into action.
How many times we say we are going to do something or change something about ourselves and we never do it or if we do it, it doesn't last. For this reason, I came up with the idea to start this blog.
I am Eliana, wife of the most wonderful man in the world, mom of three amazing children, Graphic Designer, and now a newbie blogger.
I am the kind of person who is always searching for "something" that can help me and my family grow personally and professionally. As much as I love graphic design, I also love everything related to self-improvement, motivation, attitude, and emotions.
I have to admit I am a self-improvement book, podcasts, and 
TED Talks
fanatic. 
I guess most people know about TED Talks, but for those of you who don't, TED is a nonprofit organization devoted to spreading ideas, usually in the form of short, powerful talks (18 minutes or less). It has a wide diversity of speakers as well as topics, and each of them leaves you always with something new to learn, an inspirational story or something to reflect on.
Through TED Talks, I have found speakers who inspire me in amazing ways just by sharing their own experiences and knowledge. I call them my virtual mentors (my husband calls them my boyfriends if they are men, lol). They are with me on my daily walks, at the gym, my car rides, etc. It is incredible how their words work and inspire me to reflect on myself and how to be a better person. Now, I need to add something to all that inspitation. I need to add action.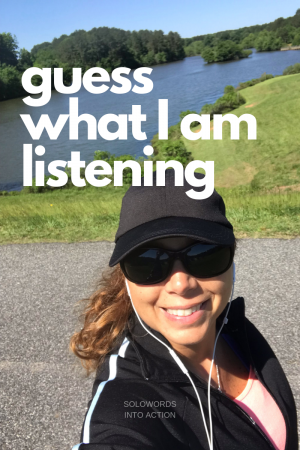 Why SoloWords into Action?
I want to challenge myself to put words into action because I love words but usually struggle with action. 
As I said before, I am challenging myself, but I also want to challenge my kids, my family, my friends and you to put action to our words. 
I want to share with all of you everything I have learned from my virtual mentors and my personal experiences because I think it can help both of us to put some action into our lives.
So, how am I going to do that?
I will be working on putting together a practical guide with tips and ideas on how to put words that are part of our lives, or we want to be part of our lives into action. 
In every post, I will share personal beliefs, opinions, experiences, life lessons and whatever I have learned, read or heard that I think could be helpful to take action. I will also share videos or posts of amazing people and my virtual mentors that have touched my life in many positive ways, and I hope they can touch your lives too.
I believe we are always in a growing and learning process from the experiences we live and the knowledge we acquire, but what makes us grow is how we use those experiences and knowledge to make us better human beings.
I hope you can join me on this challenge! If we can apply at least a few ideas from this blog to our life that will be a win for us. If we can inspire our kids, family, and friends to do it, then it will be a double win.
Remember, at the end of the day, words are solo words until we put them into action.
Thank you for visiting! I invite you to get involved by commenting and sharing your experiences.