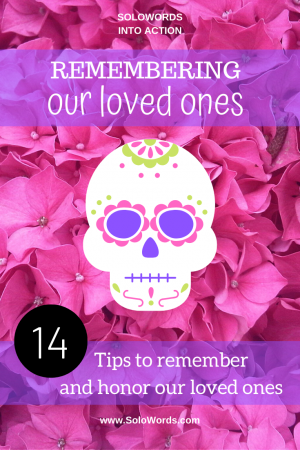 Remembering our loved ones
Remembering into action. Our minds are incredible; we all know that. Thanks to our minds, we can think, perceive, feel, desire, imagine, recognize, analyze, and memorize, among other millions of things. Thanks to our minds, we are also able to remember moments, places, feelings, flavors, and, most important, people. One of the most profound emotions we can have come from remembering our loved ones who have passed away.
This week we celebrate Halloween, All Saints Day, and All Souls Day. These three celebrations are related in some way with death. Halloween originated with the ancient Celtic festival of  Samhain to ward off ghosts. All Saints Day was designated by Pope Gregory III to honor all Saints that are in heaven, and All Souls Day honors all the people who have passed away.  This last celebration which is on November 2nd. is called in Spanish El dia de Los Muertos.
I never paid attention or celebrated El Dia de Los Muertos. It was not part of my family culture. However, after watching the movie Coco from Pixar Studios, I got deeply touched and realized the beauty of this tradition.
El dia de Los Muertos is a Mexican celebration in which people remember and honor those who are no longer with them. This day people believe that the souls of the dead return to visit their living family members. Can you imagine having one day of the year when our loved ones come back to visit us? If you haven't watched the movie, please do so. It is animated, intended for kids, but it is one of those movies that makes you see things differently and leaves you with an incredible message about life and death.
Thinking about death is not very pleasant. It usually produces in us worry, fear, and sadness. That is the reason we prefer not to think about it. However, remembering our loved ones who have died make us feel nostalgic and sad, but we always think about them and would like to have them back. Unfortunately,  we know that is impossible, but what it is possible is to make things to honor them and pass on their legacy. 
14 tips to remember and honor our loved ones who are no longer with us:
1. Pray for them and each of their family members:
If you are a praying person like me, let's keep them always in our prayers. In my opinion, prayers are healers, and we all, dead or alive, need them.
It symbolizes that the memory of our loved ones still lives on and burns bright.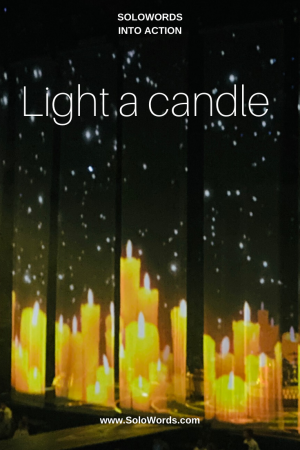 3. Be in contact with their family and friends:
Stay close to the people they loved. I know sometimes this could be difficult for different reasons, but we have to work on that and make it happen. At the end, this is what we all would like our family and friends to do when we leave this world.
Talk with our family and friends about them and how important they were for us and why frequently. Tell stories and share memories the same way we used to do it when they were alive.
5. Do something they used to love doing:
It could be watching their favorite movie, reading their favorite book, cooking or eating their favorite food, going to their favorite place. Tell the people around us about it. Let others know more about them through us.
6. Write a letter and tell them whatever we need to:
This is something therapeutic. Sometimes we have so many things we would like to say to them, but we didn't. Writing a letter helps us to get out whatever we couldn't say.
7. Write a thank you letter:
Putting in writing everything we thank them for is also therapeutic, and it helps us feel closer to them.
8. Frame something they wrote:
We usually frame photos, and that is a great way to feel them close because we can see them, but we can also frame his or her favorite saying or something that they wrote to us in an email, text, card, or letter.
9. Mention them in our important events:
If they were alive, they would probably be special guests in our events. Mentioning them in public is one of the best ways to honor their lives, and it is also an excellent opportunity to make people remember and appreciate them.
10. Do something we know they would like us to do for them:
It could be calling family members or friends to check how they are doing, finishing something they started, or finishing something we started that we know would make them happy and proud. It is about doing something for them and on their names.
11. Have a special place for them in our home:
We usually do that for ourselves, but this is also a great way to keep them alive for everybody in our house. i.e., If my children never met grandma, it is a way to keep grandma present for them. Remember to talk to our children about them and why they were so special.
12. Pass on teaching lessons or anything we learned from them to our children so it could be pass from generation to generation:
This is what I think is the most important thing we can do to keep them alive. Pass on those teaching lessons, traditions, or recipes to our kids. Let's show and tell our children how these extraordinary people made a mark in our lives.
13. Make a unique photo album about them and tell their story:
Thanks to technology we can create beautiful photo albums where we can add photos and write stories. It is like creating a special book about them that can be passed generation by generation. It is also a beautiful present to give to the closest family members.
14. Keep celebrating their birthday:
That is the day they came to this world, and it should always be a day to celebrate. Their birthdays are a celebration of their lives. If they are no longer with us, we still should celebrate their lives.
Let me clarify something. We should follow all these tips and do much more when our loved ones are alive. We should not wait until they are no longer with us to remember, honor, or thank them. So today and every day is the perfect day to hug, kiss, help, make them happy, say sorry, thank you and I love you. 
In memory of all our loved ones who are no longer with us, I want to put into action the word "Remembering," but not only for El Dia de Los Muertos. Remembering our loved ones is not just about one specific day or week. Just like Breast Cancer Awareness is not only about one month. If you are like me, I remember my loved ones all the time. I remember them in the things I do or say, see or hear, in specific places and dates, in smells and flavors, in songs, and even in things I feel. The tips I am giving here are just a few ideas to keep our loved ones alive in our hearts and the hearts of others.
I want to leave you with a quote from the book Eva Luna by bestselling author Isabel Allende:
"There is no death, daughter. People die only when we forget them,' my mother explained shortly before she left me. 'If you can remember me, I will be with you always."
To my people who have passed away, what you mean to me will never pass.
Here is a question for you:
What do you do to keep the memory of a loved one alive?
Here is a link to some of the best quotes from the movie Coco that will help us put the word "Remembering" into action:
https://wearemitu.com/entertainment/20-of-the-best-quotes-from-coco/

Get this FREE Printable Design about REMEMBERING to remind yourself that people die only when we forget them.
Easy to download, high resolution image to print at home or favorite local or online print shop in any of the following sizes: 5 x 7, 8 x 10, 11 x 14, 16 x 20 and 18 x 24. To download, click the green bottom bellow.