Do you feel recognized at work? 6 tips to put work into action
Do you feel recognized at work? This past Monday, we celebrated Labor day, which is a US National Holiday established in 1894. The U.S Department of Labor  explains, "it is a creation of the labor movement and is dedicated to the social and economic achievements of American workers. Labor Day constitutes a yearly national tribute to the contributions workers have made to the strength, prosperity, and well-being of our country." For this tribute or recognition, I would say "Thank you US government" in the name of all workers!
I hope this tribute or recognition applies to every person in the US that works. This means employees, entrepreneurs, freelancers, volunteers, stay at home parents, etc. At the end all of us work very hard and contribute to the country.
The celebration of this national holiday made me reflect on three questions:
1. Are we aware of why we are being recognized?
2. Do we really feel recognized for the job we do?
3. What do we do to recognize those who work for us?
Before answering these questions, let's start by reviewing the meaning of the word "work:"
By lexico.com:
Work – Verb: Be engaged in physical or mental activity in order to achieve a result; do work.
I also found another definition by Merriam-Webster Dictionary that I think, is the one the majority of people feel related to:
Work – Intransitive verb: To perform work or fulfill duties regularly for wages or salary
Do you see the difference between both definitions?
The first definition says the purpose of work is to achieve a result. The second definition talks about fulfilling duties in exchange for a wage or salary.
In my opinion, work is work no matter if we get paid for it or not. How can we say to someone who volunteers that what he/she does is not work? What about a stay at home mom?
We should not think about work as something we exchange for money, we should see it as something we do to obtain a result. Salary, wages, commissions, profit is just something tangible we may receive for our work. However, we can also receive non-tangible things like satisfaction, proudness, and recognition.
For me, work is what we do and how we do it. For example, being a blogger is what I do. Researching, reading, learning, talking with people, writing, editing, taking pictures, designing, etc. is how I do it. The result is my final piece published and the number of people I can reach with each post. If I get money or not for this work is not relevant to my definition of work. I already did the work and obtained the result.
Now, don't take me wrong. Getting paid for our work is very important, we need it to survive and to buy things we enjoy, but payment is not what this post is about. This post is only about the word work that for me can or can't be related to payment.
For this reason, the definition of work I am going to refer to on this post is the first one:
Work – verb
Be engaged in physical or mental activity in order to achieve a result; do work.
Getting back to Labor Day and the recognition of our work. Here are the three questions I want to reflect on:
1. Are we aware of why we are being recognized?
I think it is so important to auto-evaluate ourselves and think about all the work we do, why we do it, and how we do it. It doesn't matter what kind of work it is that we do. We can have a big title in a big company, be a doctor, a teacher, a cashier or at home mom. In all the cases, we work and spend at least 1/3 of our time working to achieve a result for a company, our family, ourselves, and our country. So we all deserve a pat on the back, and a big "thank you" for all the work we do. Now, let's not cheat on ourselves. That big "thank you" it is also related to how good we do our job.
2. Do we really feel recognized for the good job we do?
It is very nice that the government, through the Labor Day holiday, recognizes and dedicates the first Monday of September to employees. A free paid day is always welcome. Now, the recognition of our good work should be done every day, if possible, by our bosses, colleagues, anyone who work with us, and anyone who benefits directly from our work. Any word said that complements us for our work is more valuable than a free day because it makes us feel worthy and proud of ourselves. This feeling motivates us to be better. It will also make a huge difference in our productivity.
3. Do we recognize those who work for us?
If we like to be recognized for our work, the people who work for us probably like to be recognized too. How often do we recognize the good work of the cashier at the grocery store, the guy who mows the lawn every week, the lady who clean our office or our home, or the bathroom at the mall, the dentist, the teacher, our kids' coaches? We need to realize that all those people work for us, and each of them deserves our recognition for their work.
6 Tips to put the word "work" into action:
Whatever our work is, we need to understand that we were the one who chose it. We were the ones who said yes, we accept this job. It really doesn't matter if we said yes because it was the only one and we need it or because that was our dream job. The point is we choose that job, and while we are working there, we should do our best even if it is a temporary job. So here are five tips to put the word work into action
Let's remember what Victor Kuppers said in the TEDx Talk I recommended on my last post about attitude. We can be defined by the following formula: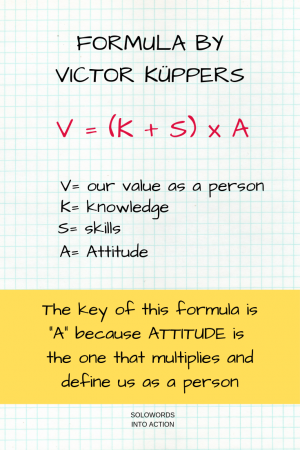 2. Work with interest and show it:
It doesn't matter what kind of job it is. If we already committed to doing a job, we need to understand that the commitment implies to do the job the best way possible. I know by experience that there are jobs that suck and that we do it just for the money. I also understand that there are bosses that suck even more than the job and we need to hang in there, just for the money. However, like it or not, the decision of staying in that job is still ours. So if we decide to stay, let's do it the right way. Let's have a positive attitude and work with interest. If we work directly with customers, let's show them our interest in giving them the best service possible. Let's show our boss and everybody around us that we are different. That we do the job because of the result, not just because of the money.
On my post about curiosity, I mention that curiosity is like a button that when we push it, it starts a process that can lead to progress. Again, it doesn't matter what work we do, curiosity can lead us to learn, imagine, create, innovate and progress. Curiosity can generate ideas about how to do things differently and in better ways. So we need always to ask why? That is the best way to learn. (Read my post about Curiosity)
It doesn't matter who we are or who we think we are. We should always be in the process of learning something. If we are interested and remain curious, we will always have something to learn. By learning, we become better at what we do, or we become able to do something different. It is through learning that we grow personally and professionally. As the priest of my church once said, we should not take short cuts when learning. None of us would like to go to a doctor, a lawyer, or anyone in a time of need if they took a short cut.  (Read my post about Learn)
The art to meet people. We need to see people like doors. Inside of each person, there is a whole world of feelings, knowledge, experience, and addresses to new doors. It is by knowing new people that we open the possibility to connect with other people. Who doesn't know that this world is all about connections?
I think this is one of the best ways to separate us from the rest. Being proactive includes having good attitude, showing interest, being curious, learning, and networking. It is to go a little farther than what we are expected to do in the best way and best attitude possible.
We all are workers spending at last 1/3 of our days doing something to get a result. Some people spend much more than that, right moms? If we chose a job in which we'll spend that much time working, let's make sure we enjoy it as much as we can and take advantage of everything that job can offer us.
Every job has his pros and cons, there is not the perfect job, as there is not the perfect boss, spouse, son/daughter, mom, dad, or friend. We are the only ones that can decide our attitude toward our job and look and focus on the positive.
Remember, working should be about learning, getting experience, satisfaction, knowing that we are helping people, networking, growing personally and professionally, and being the best we can be to obtain the best possible results.
If we see our work this way, we will always feel better about what we do and ourselves. We will also be able to recognize and appreciate the hard work of people around us.
To all of you, workers, thank you for your work. Special recognition to all immigrant workers that so many times are not being appreciated and to those who worked on Labor Day while others had the day off. Thank you all!
Here is a question for you:
Who was the last person you recognized for his/her job?
Here is a link of an great TEDx Talk about work. Please take the time to watch!
Don't find a job, find a mission | Celeste Headlee| TEDxAugusta
I will be sharing some work thoughts on Instagram and Facebook. Please check them out!
Get this FREE Printable Design about WORK to remind yourself about the result
Easy to download, high resolution image to print at home or favorite local or online print shop in any of the following sizes: 5 x 7, 8 x 10, 11 x 14, 16 x 20 and 18 x 24. To download, click the green bottom bellow.